There are three new cases of Covid-19 in NZ today, in managed isolation.
There are no new cases in the community.
The Ministry of Health did not hold a media conference today.
In a statement it says the first case reported today arrived from India on 26 September and was retested after returning a negative result at their routine test around day 3 of their time in managed isolation because they were a contact of a previously reported case.
The second case arrived on 2 October from England via Qatar and Australia and was tested after they developed symptoms, it says.
And the third case reported arrived on 4 October from India via England and Qatar and was tested on arrival because they developed symptoms on the flight.
"These people have all been transferred to the Auckland quarantine facility," the Ministry says.
The total number of confirmed cases of Covid-19 is 1,502 and the total number of active cases is 43.
Of the active cases 37 are imported cases and six are community cases.
The Ministry says there is one person on a ward in Middlemore Hospital with Covid-19 today.
There were 2,820 tests processed yesterday, bringing the total number of tests completed to date to 985,639.
There was one new case of Covid-19 in managed isolation reported yesterday and no new cases in the community.
A voucher allocation system to enter New Zealand's managed isolation facilities began operating yesterday.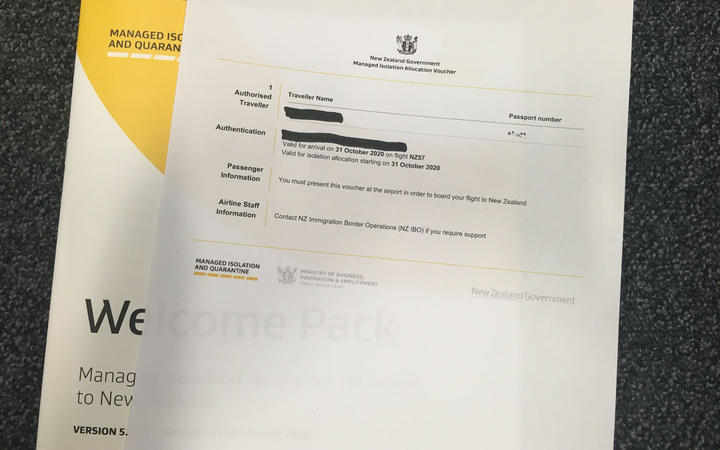 Photo: Supplied
New Zealanders will not have to pay a fee to get a voucher but may have to contribute to the costs of the quarantine if they plan to be here for less than 90 days.
A person, couple, or family must complete a registration form in order to receive a voucher which guarantees them a place in a facility for the 14 days.
They'll need to present the voucher at the airport so they can board a flight to New Zealand.
More detailed information is available on the Managed Isolation and Quarantine webs
-RNZ